Subaru Forester Updated for Japan, Likely for Our Market for 2017
NJ Subaru dealers nj latest Forester having been introduced for the 2014 model year, it will soon be due for a freshening-but so far, only the Japanese-domestic-market variant has been tinkered with. The updated JDM Forester will debut at the 2015 Tokyo auto show, and it's been given updated fascias, headlights, taillights, and a new grille.
Like the U.S. model, Japan's Forester comes in two flavors identified by their engines: A base, 2.5-liter flat-four, and an optional XT variant powered by a turbocharged 2.0-liter boxer four. Both versions have subtly restyled snouts, with new headlight and taillight internals, and redesigned grille inserts for the Flemington Subaru buyers. For the first time, full-LED headlights are available, and Subie's latest EyeSight camera-based package of safety technologies now incorporates lane-keeping assist, blind-spot monitoring, and improved emergency braking and adaptive cruise-control functionality (changes that were first announced for the Japanese market over a year ago).
Subaru Someret also tossed in some mechanical updates, strengthening the front crossmember for greater body rigidity, revising the rear suspension links' bushings for better stability, reducing friction in the shocks, and switching to a quicker steering ratio. The XT model adds an active torque-vectoring function, and all models get thicker side glass, improved body sealing, and tweaks to the CVT transmission to reduce NVH.
Could these same changes be headed to, say, next year's U.S.-spec Forester? Subaru dealerships in NJ were mum on the subject when we contacted them, but after two years on the market, we'd wager that the U.S. Forester is ripe for just this kind of mid-cycle update, likely for 2017.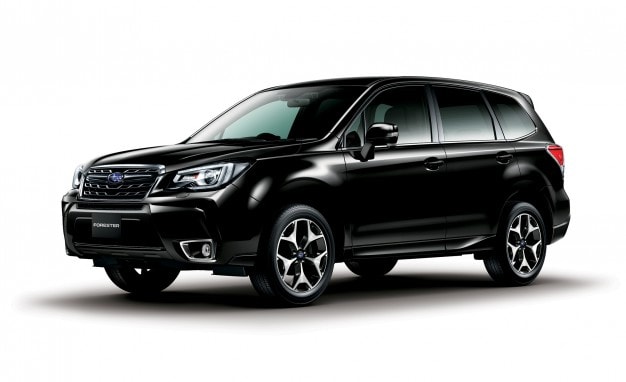 Jeremiah Hupka High Bridge NJ
Make an Inquiry
Hours
Monday

SHOWROOM OPEN - 9:00am - 8:00pm

Tuesday

SHOWROOM OPEN - 9:00am - 8:00pm

Wednesday

SHOWROOM OPEN - 9:00am - 8:00pm

Thursday

SHOWROOM OPEN - 9:00am - 8:00pm

Friday

SHOWROOM OPEN - 9:00am - 6:00pm

Saturday

SHOWROOM OPEN - 9:00am - 5:00pm

Sunday

Closed