Home of the Lifetime Warranty, #VictorySubaru is here for you! We are keeping true to our #LovePromise every day and recently made charitable donations to support two very worthy causes: helping domestic violence victims in their recovery and providing food to feed the hungry. Our team purchased and delivered an array of essential supplies to the Center for Great Expectations on April 27 in Somerset. Elsewhere this May, we're donating more than 80,000 Feeding America meals to the New Jersey Foodbank.
Victory Subaru donates essential supplies to support New Jersey victims of domestic violence
SOMERSET 
-
April 30, 2020 - Victory Subaru donated essential goods this week to the Center for Great Expectations to support New Jersey victims in recovery from domestic abuse.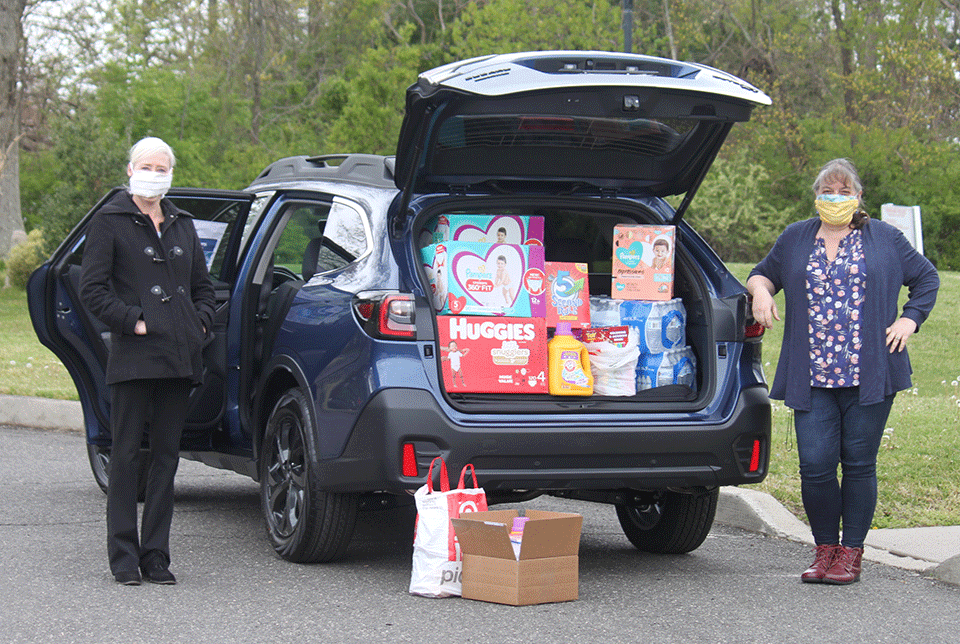 "Victory Subaru is proud to support our community and the incredible work achieved every day by the Center for Great Expectations in Somerset," said Brandon Baker, owner of Victory Subaru. "We asked the center what essential supplies were needed and delivered these items, including protective face masks, to the center on Monday to show everyone in recovery, as well as the entire Great Expectations team, how much we care."
On Monday, Victory Subaru fully loaded the trunk of a 2020 Outback with essential supplies and drove to the Center for Great Expectations in Somerset to drop off the goods. Items included brand-new packages of baby wipes and diapers, cases of distilled water, dish soap, laundry detergent and containers of hair conditioner and body wash. Victory Subaru's charitable donation also included coloring books, markers, colored pencils and an assortment of games. 
"We are so thankful to Victory Subaru for their support not only during this challenging time but also for the near decade of support they have provided to the Center for Great Expectations," said Pamela DeLuca, chief development officer. "The generosity of our friends and community is invaluable to the over 200 women, children and men we are serving daily. You are treasured members of the CGE family."
Victory Subaru has supported the Center for Great Expectations frequently during the last six years and made a fiscal charitable cash donation of more than $33,000 during its annual 2018  Share The Love event. Doing the most good possible in the local community wouldn't be possible without the support of Victory Subaru's wonderful community-conscientious customers. 
"Victims of domestic abuse are not alone thanks to the good work of this incredible local charity, which helps women and children across the entire state," Mr. Baker said. " New Jersey is a place where good people always come together to help one another when crises hit our community, from natural disasters like Hurricane Katrina to the current COVID-19 national emergency. Being a good neighbor means helping one another and supporting the advocates working every day to make a difference in the lives of others."
The Center for Great Expectations was founded in 1998 with the mission of providing homeless pregnant women a safe place so that they may complete a healthy pregnancy. The Center for Great Expectations offers both adolescent and adult services including outpatient treatment and permanent supportive housing. 
 "Victory Subaru is grateful for the opportunity to support the Center for Great Exceptions," Mr. Baker said. "This crisis is a key opportunity for businesses in good standing to reaffirm their commitment to this community by making charitable donations to help our neighbors and friends combating the plague of domestic violence here in New Jersey. We are in this together."
Community members are invited to drop off donations for the  Center for Great Exceptions at Victory Subaru.
Victory Subaru offers Central Jersey customers an array of new and used vehicles and is home to an award winning service center. The family-owned dealership's inventory includes the best Subaru models on the marketplace including the Outback, Forester, Impreza, Legacy and WRX. Victory Subaru is located at 1233 Route 27  in Somerset, N.J, To reach Victory Subaru, call 732-846-7222 or visit www.victorysubaru.com. 
#AllAboutTheLove   #VictorySubaru   #HealingIsNotCanceled   #RecoveryIsNotCanceled #LovePromise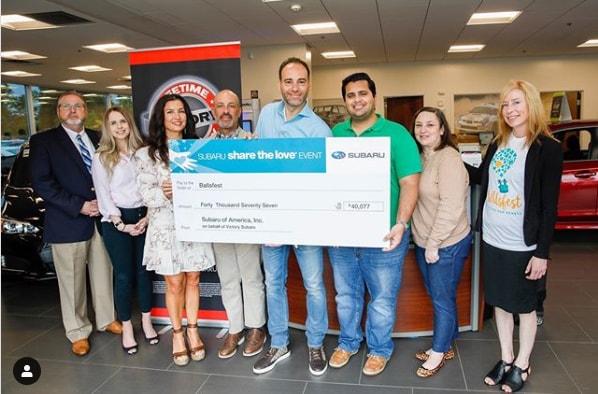 SHARE THE LOVE: Victory Subaru donates charitable cash gift to BallsFest 
Victory Subaru donated more than $40,000 to the nonprofit BallsFest in May to support its mission to inspire and support people battling cancer including children, young adults and their families.