Home of the Lifetime Warranty, #VictorySubaru is here for you! We are keeping true to our #LovePromise every day and recently made charitable donations to support two very worthy causes: helping domestic violence victims in their recovery and providing food to feed the hungry. Our team purchased and delivered an array of essential supplies to the Center for Great Expectations on April 27 in Somerset. Elsewhere this May, we're donating more than 80,000 Feeding America meals to the New Jersey Foodbank.
Victory Subaru is pleased to share our most recent charitable donation, made on June 25, of art supplies, including creative crafts and interactive games, for children enrolled at the Arc of Somerset County.


After more than three months of quarantine, youngsters are set to return to daycare and educational instruction at the Arc this upcoming Monday.
We are so grateful for the opportunity to support this important transition for youngsters and staff at the Arc by providing a wagon full of brand new art and craft supplies to enhance every child's personalized learning experiences this summer.
The Arc of Somerset County serves individuals with developmental disabilities and their families from birth through the senior years of life through our many programs and services in Somerset County. This important New Jersey nonprofit serves more than 1,400 children, adults, and their families across 33 locations including 27 group homes and apartments, four employment centers, the Jerry Davis Center for Children and Families, The Achievement Center at Raritan Valley Community College and Camp Jotoni.
At Victory Subaru, charitable support to the nonprofits making a difference in our community is the crux of who we are as a local
Somerset, New Jersey
, family-owned and operated dealership.
Love - it's what makes a Subaru - a Subaru.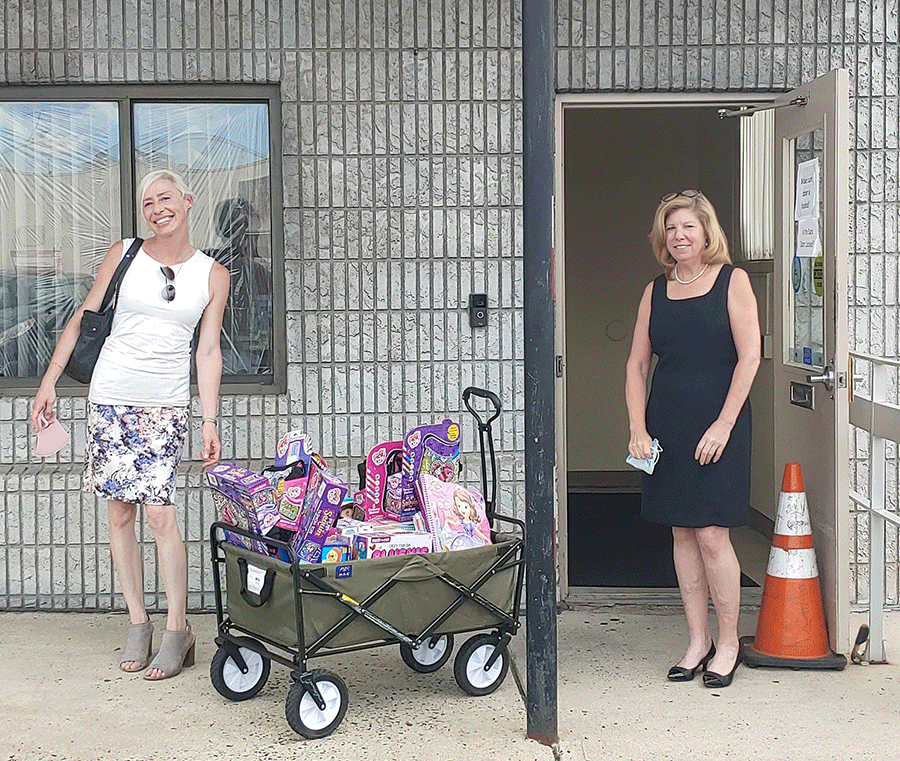 Special thanks to our Title Clerk Michele Chevalier, Victory's charity organizer, and Lauren Frary, executive director of
The Arc of Somerset County
.
Victory Subaru donates emergency supplies to local food bank in Somerset
SOMERSET - MAY 14 2020 - Victory Subaru received a call in early May from one of our community partners, our friends at the Jewish Family Services (JFS) food pantry, asking for support.
The charity offers non-sectarian assistance to the hungry and poor, as well as those facing unexpected traumatic emergency situations, in Somerset County and beyond.
Due to demand in wake of the COVID-19 crisis, supplies were low. During the call, JFS asked Victory Subaru to make an emergency donation of goods for its community food pantry. 
"Yes!"
Soon afterward, we collected supplies, from canned goods to toothpaste, and Judy Cavalieri crosstreked over to Victory Subaru in Somerset to pick up an Outback's load-of-food that the dealership donated. 
Victory's Charity Organizer and chief Title Clerk, Michele Chevalier, coordinated the campaign. "Victory Subaru was so happy to make a food donation to such a fantastic organization of people who don't see race or religion," Chevalier said. "Like Victory Subaru, this nonprofit just loves to care."
After Victory Subaru's team answered and provided JFS with this urgently needed food donation, Cavalieri said the charitable gift and goodwill community effort "etched Subaru's Legacy into the annals of the JFS food pantry."
The family-owned, award winning dealership made a previous donation to JFS ahead of Thanksgiving last year.
Earlier this spring in April, Victory Subaur donated essential supplies, as well as crafts, toys and games for children, to the Center for Great Expectations to support the recovery of domestic abuse victims across New Jersey.
Victory Subaru is also proud to support Feeding America this spring by donating more than 81,000 meals to the Community Foodbank of New Jersey.
#LovePromise #CommunityPartners #VictorySubaru #LovesToCare #Somerset #NJ #Hope
_____________________________________________________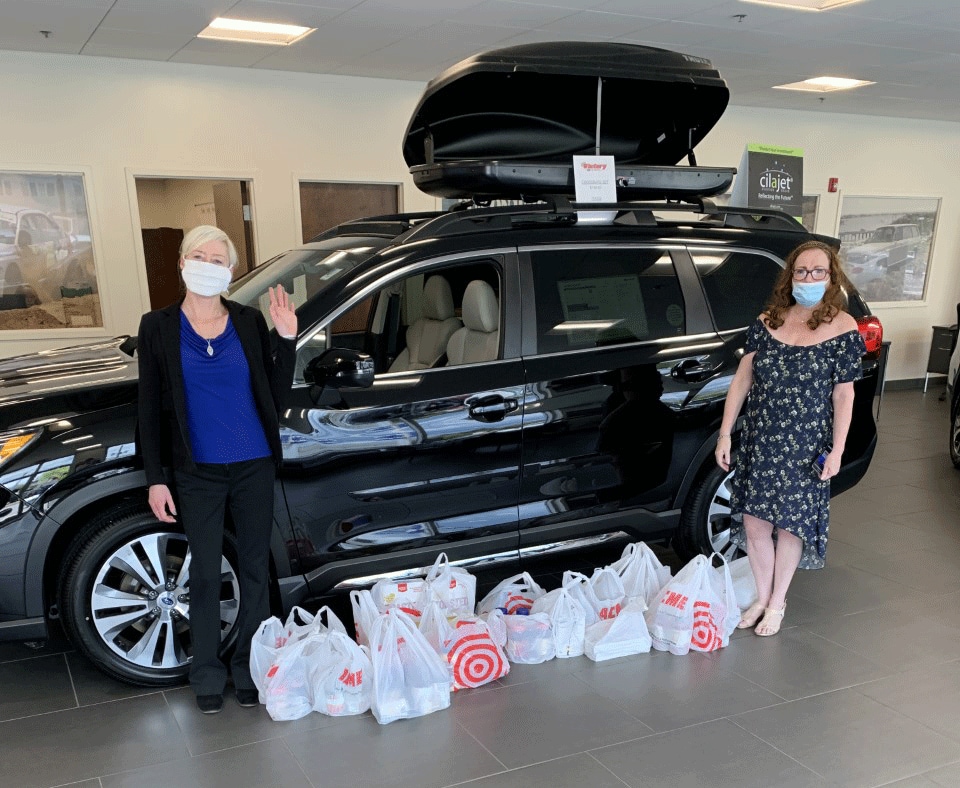 Judy Cavalieri (right) visits Victory Subaru to collect an Outback's load-of-food donated to Jewish Family Services by the dealership. The charity helps people in need across Somerset County and beyond. Victory's Charity Organizer and chief Title Clerk, Michele Chevalier, coordinated the emergency relief campaign. To contribute to the Ascent of the JFS food pantry stockpile, call 732-777-1940 or send an email to office@jfsmiddlesex.org.
Victory Subaru Is Open
SOMERSET - MAY 20, 2020 - Victory Subaru is open.  
By order of the governor, the automotive industry in New Jersey, from dealerships to bike shops, were allowed to reopen their showrooms and venues at 6 a.m. May 20. The order relaxes previous state mandated rules first declared in March which included the closing of all public and private schools as well as certain businesses and impacting entire entries from hospitality to cosmology.
One essential aspect of our business is our team of mechanics who are experts in automotive engineering, maintenance and repairs. It is not only essential, but quintessential, to ensure your car is safe to drive on the roads rain or shine. 
The Victory Service Center remained open during the shutdown. 
Our dedicated team and department leadership implemented additional procedures to increase the already stringent safety protocols we have in place as a community-dedicated dealership dedicated to your safety and well-being. We strive to ensure everyone always has a wonderful experience with us from the sales team to our finance gurus.
One new safety element added to our ongoing robust in-house cleaning protocols is
BioPledge
®. We sanitize the entire dealership and service center daily with
BioPledge
®. This is one key precaution we are taking as a dealer to ensure and enhance everyone's safety as
BioPledge
® is a hospital grade disinfectant that you can apply to all touchable surfaces. 
BioPledge® is odorless, free of bleach and harmful chemicals. We have applied it throughout the dealership on all touchable surfaces. Our service team can also apply this product to the interior of your vehicle and outside door handles. 
We are here for you! 
At Victory Subaru, making sure your vehicle is in top condition is more important than ever. Whether it's an open Safety Recall or regular maintenance our team of experts are here for you. We have several complimentary options during these tough times to give you safe and easy options to keep your Subaru running.
Our service center in Somerset is open Monday through Saturday to ensure your family car is ready-to-go for essential road trips today and stays in great condition for future adventures this summer and fall. 
At Victory Subaru, we have taken all the necessary precautions to make your service visit a safe and healthy one. We have several different options to assist you in your service needs.
Dedicated to your well-being and safety as a family-owned and operated dealership in Central Jersey,  we are offering totally free pick up and drop off services for your convenience and also offer customers a sanitized loaner car for convenience. When the work is completed, we then return your vehicle with the interior sanitized.
As always, we have an after hours drop box that you can safely leave your keys and information at any time. Call the
Victory Service Center
at 732-387-7763 to connect with a member of our dedicated team.
Bright days are ahead! The Victory Subaru sales team is available to answer automotive inventory questions remotely for all of our customers. 
We will never let you down at Victory Subaru. Always, we are here for you!
#ConfidenceInMotion #SubieSquad #LovePromise #AllAboutTheLove #VictorySubaru #Somerset #NJ
---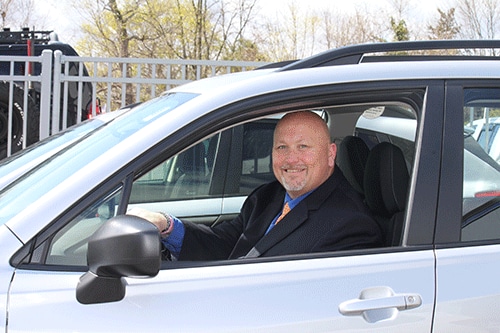 Victory Subaru is here for you! Meet our dedicated and highly knowledgeable Victory Service Center director Joel McComsey, seen here inside an all-new 2020 Outback Limited XT in Crystal White, with interior upgraded LED lamps, body side moldings and auto dimming mirror with approach lamps. 
We can help make a safe, reliable and trusted vehicle your next dream car! 
Victory Subaru donates essential supplies to support New Jersey victims of domestic violence
SOMERSET 
-
April 30, 2020 - Victory Subaru donated essential goods this week to the Center for Great Expectations to support New Jersey victims in recovery from domestic abuse.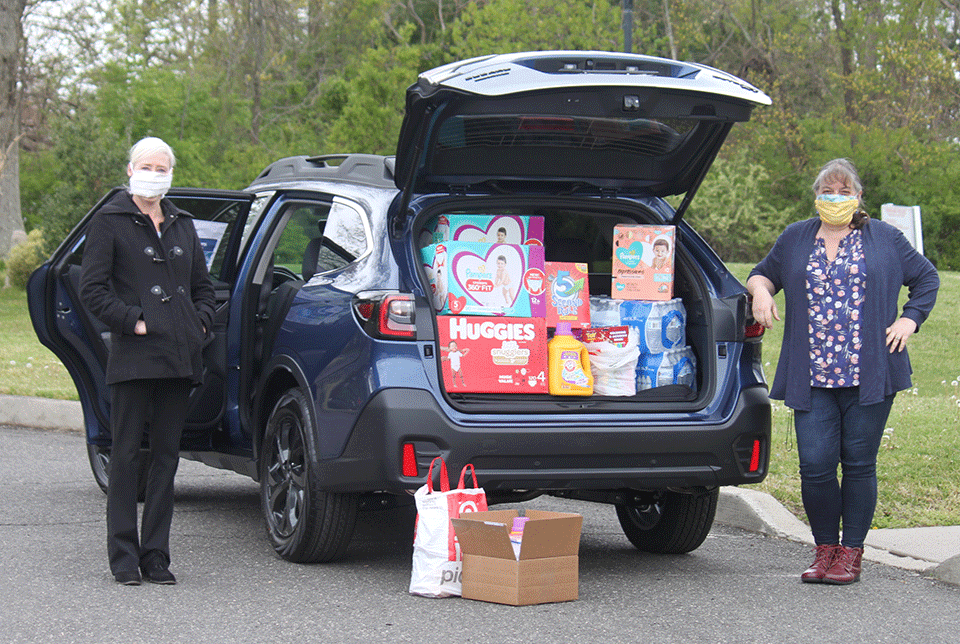 "Victory Subaru is proud to support our community and the incredible work achieved every day by the Center for Great Expectations in Somerset," said Brandon Baker, owner of Victory Subaru. "We asked the center what essential supplies were needed and delivered these items, including protective face masks, to the center on Monday to show everyone in recovery, as well as the entire Great Expectations team, how much we care."
On Monday, Victory Subaru fully loaded the trunk of a 2020 Outback with essential supplies and drove to the Center for Great Expectations in Somerset to drop off the goods. Items included brand-new packages of baby wipes and diapers, cases of distilled water, dish soap, laundry detergent and containers of hair conditioner and body wash. Victory Subaru's charitable donation also included coloring books, markers, colored pencils and an assortment of games. 
"We are so thankful to Victory Subaru for their support not only during this challenging time but also for the near decade of support they have provided to the Center for Great Expectations," said Pamela DeLuca, chief development officer. "The generosity of our friends and community is invaluable to the over 200 women, children and men we are serving daily. You are treasured members of the CGE family."
Victory Subaru has supported the Center for Great Expectations frequently during the last six years and made a fiscal charitable cash donation of more than $33,000 during its annual 2018  Share The Love event. Doing the most good possible in the local community wouldn't be possible without the support of Victory Subaru's wonderful community-conscientious customers. 
"Victims of domestic abuse are not alone thanks to the good work of this incredible local charity, which helps women and children across the entire state," Mr. Baker said. " New Jersey is a place where good people always come together to help one another when crises hit our community, from natural disasters like Hurricane Katrina to the current COVID-19 national emergency. Being a good neighbor means helping one another and supporting the advocates working every day to make a difference in the lives of others."
The Center for Great Expectations was founded in 1998 with the mission of providing homeless pregnant women a safe place so that they may complete a healthy pregnancy. The Center for Great Expectations offers both adolescent and adult services including outpatient treatment and permanent supportive housing. 
 "Victory Subaru is grateful for the opportunity to support the Center for Great Exceptions," Mr. Baker said. "This crisis is a key opportunity for businesses in good standing to reaffirm their commitment to this community by making charitable donations to help our neighbors and friends combating the plague of domestic violence here in New Jersey. We are in this together."
Community members are invited to drop off donations for the  Center for Great Exceptions at Victory Subaru.
Victory Subaru offers Central Jersey customers an array of new and used vehicles and is home to an award winning service center. The family-owned dealership's inventory includes the best Subaru models on the marketplace including the Outback, Forester, Impreza, Legacy and WRX. Victory Subaru is located at 1233 Route 27  in Somerset, N.J, To reach Victory Subaru, call 732-846-7222 or visit www.victorysubaru.com. 
#AllAboutTheLove   #VictorySubaru   #HealingIsNotCanceled   #RecoveryIsNotCanceled #LovePromise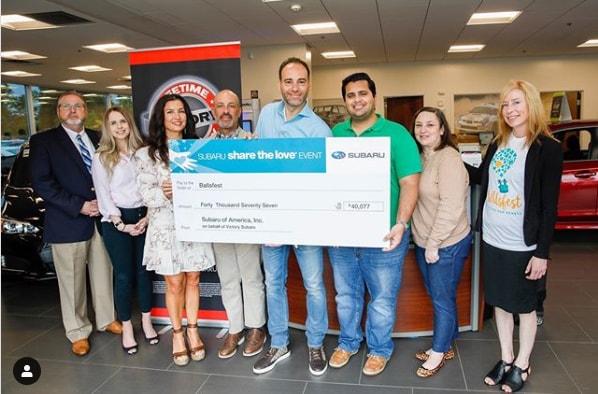 SHARE THE LOVE: Victory Subaru donates charitable cash gift to BallsFest 
Victory Subaru donated more than $40,000 to the nonprofit BallsFest in May to support its mission to inspire and support people battling cancer including children, young adults and their families.