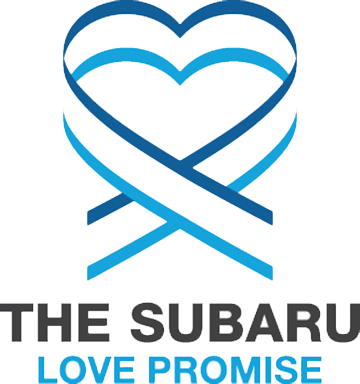 What is the Subaru Love Promise?
Subaru and our retailers believe in making the world a better place and the Subaru Love Promise is our vision of respecting all people. This is our commitment to show love and respect to our customers and to work to make a positive impact in the world.
How is Victory Subaru dedicated locally to the Love Promise?
Our Love Promise can be seen in various partnerships with local charities and non-profits. We're grateful for the opportunity, not only to be a part of our community, but to serve it as well.
Love Promise Stories from Victory Subaru
Subaru and Victory Subaru believe in making a positive impact on the communities in which we live and work. We uphold that belief through our Love Promise Community Commitment. Every month, we select inspiring stories from customers and partners from around our area who strive to support our collective commitment and feature them here
Victory Subaru Love Promise - Jen S
Victory Subaru presented charitable donations to two hometown nonprofits — The Center for Great Expectations of Somerset and Steps-Together of Hillsborough — on Monday. The donations totaled $18,502.Victory Subaru is proud and grateful for the opportunity to support these wonderful local charities! This past holiday season, during the 13th Subaru Share The Love event from Nov. 19 until January 4, customers buying a vehicle at Victory Subaru had the option to donate up to $250 to support our two #hometown nonprofits. During the 13th annual Subaru SHARE THE LOVE event at Victory, customers, in addition to supporting hometown charities, could donate to several national organizations with missions ranging from working to help animals to advocating for the protection of forests and wildlife at cherished parks and national landmarks to feeding the hungry. The select national organizations featured in the 13th annual Subaru SHARE THE LOVE event include: ASPCA, Make-A-Wish, Meals on Wheels and the National Park Foundation. And this spring on Monday, thanks to your support, Victory Subaru donated $13,538 to The Center for Great Expectations and $5,044 to Steps Together. As part of our Love Promise commitment, we believe in helping our community. Together we can empower local nonprofits — like Great Expectations and Steps Together — whose missions help build a stronger, more compassionate community here at home for all. Learn more about our hometown charities: https://www.steps-together.org & https://www.cge-nj.org. For more on Victory Subaru and our Love Promise commitment, call 732-846-7222 or visit www.victorysubaru.com. #LovePromise
---
Subaru Saves The Dog - Rosemary
Jersey Girls Animal Rescue is a local, foster based, nonprofit rescue that helps get abused, neglected & abandoned puppies & dogs into a healthy & happy future! We support many Southern rescues & have partnered up with vets in that area to help us get the care these dogs need until they are transported up to our New Jersey foster homes... and ultimately adopted!! With that in mind, it takes so many volunteers, love & money to help save just one dog. Our rescue commits to giving each dog a clean bill of health before going to their forever homes. This includes vet visits for (but not limited to) neuter, spay, skin conditions (mange), worms, infections, vaccines (rabies), blood work, heart worm treatment, flea & tick preventive & screening for any underlying illnesses. We also provide food, treats, toys, crates, collars & leashes for all our dogs and foster families. We truly take each dog's journey as a gift and try to set them up for a successful second chance! It takes so many kind & generous people to help us and support our mission... enter Victory Subaru of Somerset!!!! This opportunity to connect with your organization has helped us pull so many dogs out of a horrific hoarding situation in Mississippi. Without your contribution & generosity in saving the lives of these dogs, we couldn't have pulled them from this life they were destined to live. Also, having such an amazing corporation like Victory Subaru support us and the dogs we save makes us feel like there is hope!!! Without hope... there isn't much to keep our rescue going & knowing that you are an activist for us makes this line of work so much rewarding and manageable!! The Victory Subaru Loves Pets initiative changes so many lives and we are extremely grateful to be a part of your community. We have attached three photos of only three of the dogs you helped save!!! We have so many more photos plus two videos of their actual rescue but wanted to share the faces of these pups... who as of this October... found their forever homes!!! With a grateful heart... JGAR XOXO
---
Delivering Warmth - MIchelle E
Employees of Victory Subaru delivered blankets and care cards to Steeplechase Cancer Center on July 19th and truly spread the warmth. Employees had the opportunity to hand deliver blankets to some patients and it is without doubt that this donation was greatly appreciated by not only the patients but the hospital as well. It is often times the donations and notes/thoughts from "strangers" that mean the most to patients during their treatment.
---
Thank you Victory Subaru! - Deirdre B
"We are so grateful to Victory Subaru in Somerset, NJ for donating 80 blankets, craft kits and care cards to our cancer patients. They took the time to personally deliver blankets to patients in our infusion suite and our inpatient pavilion. Their generosity will bring comfort and hope to so many during a very challenging time in their lives." – Deirdre Blaus, director, Steeplechase Cancer Center, Robert Wood Johnson University Hospital Somerset
---
Subaru and NWF Love the Earth! - David F
A big thank you to Subaru and the Baker family for their generously helping the earth!
---
Pet Adoption Saturday - Brandon B
It all started with our Share the Love event at Victory Subaru when we picked Cold Nose Warm Heart animal rescue as our local charity. We found at the time of our event there was a great need for not only homes, but supplies for the animals that were waiting to be adopted. We discovered that a large number of these animals are fostered in private homes and we were hoping that through the collection of these items at the dealership we could help offset the cost of fostering our furry friends until they found their new homes. We had other special events to raise awareness for the animals that are in need of forever homes. One example was a local radio station-sponsored "Cutest pet" photo contest, in which the grand prize was a flat screen television. We found the use of social media and the radio station helped us to nearly double out attendance at our second adoption event. Throughout the year, our events have been growing. Not only in success, but in the number of vendors and organizations that participated. New organizations such as Somerset Rescue Center, Franklin Animal Shelter, Second Chance for Animals, and County Veterinary Hospital have joined forces with us. We, at Victory Subaru, are very proud of our community involvement not only with pet adoption, but also with other community events and non-profits.
---